Can you feel the world, vibrating around you? Sense the energy of the cosmos, from the highest mountain peak to the smallest rock? Welcome what is not human into your consciousness?
As a species, we have lost our connexion to nature, and in so doing, to ourselves. We have forgotten that we are vibrational, multidimensional, spiritual beings to give in to strictly dual thinking: nature versus culture, science versus spirituality, light versus darkness.
Thinking we are not part of nature, but above her, we lose our connection to our true self. And since we do not feel bound by natural rules, we feel compelled to destroy the habitat of other living creatures, guided solely by our thirst for comfort. If we continue down this path, the plants that outlive us will consider humanity as a failed DNA experiment.
My name is MOON Martina Zelenika. I am an artist, orbiting around society just as the moon orbits around the earth. The moon is our guide is the darkness of night. My mission is to reconnect humanity with its inner light. I believe art can be the spiritual medicine for our troubled times.
I refuse to be guided by my ego, or a bogus sense of self-importance. Through my art, I am striving to reach true empathy for every living creature, never forgetting the fragility of existence. I create freely. Yet I am constantly questioning, falling in dark depths, rising through the eternal joy of a loving heart.
Journey with me into the unknown, where questions are our beacons.
Can you feel the world, vibrating around you?
Art is about creating interactions, not objects. I am not interested in aesthetics, in recognizable shapes, in being part of a school. What I am striving to achieve is a deep interconnection between the audience and positive world energies.
This is why I do not limit my practice to a specific medium, even though drawing is my preferred mode of expression. When I am drawing, my entire body is in movement, channeling the energy of the universe into concentric, shadowed, ellipses.
I started this research in 2017 with META_SIGNAL SONAR SYSTEM (or MSSS), and it keeps supporting me to this day, as I delve deeper into the solar system with my latest work. 
This meditative drawing forms its own language, fusing phonograms and logograms. It serves as a springboard to the original language, shared by all sentient beings. The language of vibration.
I pursued this exploration of the universal language of sound with 6th SENSE, another installation in the artistic research project cycle META_SIGNAL SONAR SYSTEM. Combining collage and augmented reality, the project allows the audience not only to experience interactive sounds and visuals in real time, but also to interact with them. Sounds is a primal form of communication, and I believe it can be akin to telepathy. Who knows, it could even allow us to interact with non-human, non-terrestrial entities.
I explore it further in my ongoing performative series RECEPTILIUM. As I am engaged in drawing, sensors capture brainwaves and hand motion data. This "raw" data is then turned into sound, interacting with generative visuals.
I invite the audience to meditate with me, to tap into the energy of the cosmos. Only then can we unite and rise above the challenges confronting humanity today.
This is how I practice politics: not by division, but by integration.
Can you sense the energy of the cosmos, from the highest peak to the smallest rock?
As everything is connected, everything speaks. All we have to do is listen.
In my work, I keep coming back to the symbol of the mountain as a place bridging earth and sky. A place beaming with mystical energy I love to prospect using the medium of video.
In INTROVERSION (2019), I filmed Croatia's Mount Velebit upside-down. The sky becomes a pink prairie, the mountain slopes merge into the stars. The experience is elating, but do not let it fool you: what I am calling for is not simply a dream-like experience of transcendence, but a realization of how the pervasive panopticon philosophy and inflation of information in our lives prevent us from going inward.
I returned to Mountain Velebit for my debut experimental short documentary MOUNTAIN (2019). I personified the Mountain as a female goddess, bound before a stream using the Japanese technique known as kinbaku. She urges the viewer to "come with me", and "fly" into the depth of desire.
Can you welcome what is not human into your consciousness?
Just as my work is transdisciplinary, my approach is multi-faceted. Research, testing, meditation, are all valuable ways to attain knowledge and self-enlightenment.
Curiosity is a major driving force in my work. Just because I work with spirituality, does not mean I reject science and technology. On the contrary, I think they are precious tools to reach deeper within ourselves and interact with other forces.
In the another artistic research project cycle named "Metaprogramming Of The Human Algorithm" (or MOTHA) and the artwork LA PETITE MORT (2019), I use augmented reality technology to bring closer the experience of a transcendental state or a deep orgasm achieved for the purpose of survival. As visitors walk towards elliptical drawings, they are presented with an extra layer of reality. Alchemy and science merge.
For my series NEW EUROPE (2017), I partnered with the Department of materials physics, Laboratory for molecular physics and synthesis of new materials at the Ruđer Bošković Institute in Zagreb Croatia to scan minerals using quantum mecanics. I incorporated this scientific knowledge into the traditional healing properties of minerals such as black Sphalerite, silver Galena and golden Pyrite to create music and geomorphic reliefs.
From vibrations to data, drawing to video, science to emotion… we have come full circle. Just like the moon.
Are you ready to fly?
The future is speculative, but humans can unite. I hope this MOON journey brought you… precisely that, hope. Hope in a regenerative earth, hope in a gentler humanity. Will you join me in generating a positive world frequency?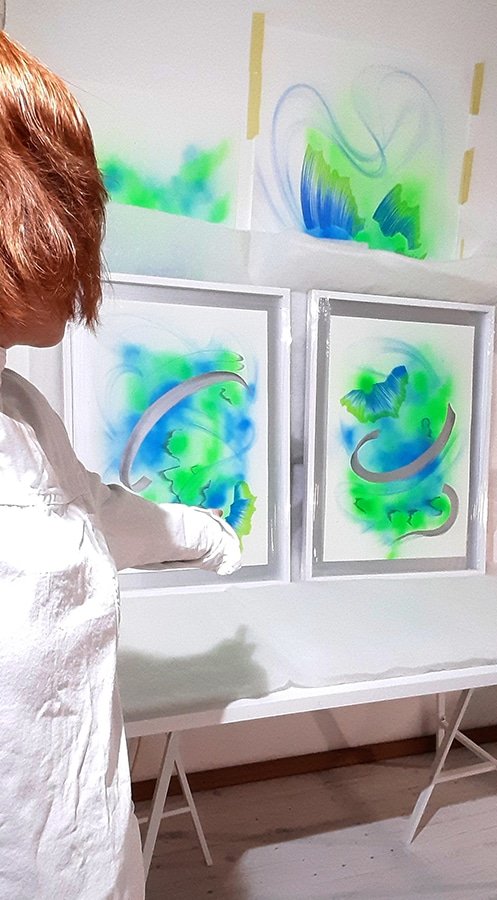 the artist MOON at her studio. photo credit: MOON Studio © 2021 Zagreb

MOON Martina Zelenika is a Croatian-born and Zagreb based interdisciplinary artist, a founder and a meditation facilitator at Vibrations Matter (www.vibrationsmatter.com). Martina graduated 2001 at the Printmaking Department of the Academy of Fine Arts of the University Zagreb and took a master's in 2006 in the area of Video and New-media at the Academy of Visual Art and Design of the Ljubljana University. She has been awarded more than 14 well-regarded grants and several scholarships, and has participated at international conferences dedicated to digital and multimedia art: RE:SOUND – the 8th International Conference for Histories of Media Arts 2019 at Aalborg Denmark; ZIP-SCENE Budapest Hungary; RIXC Art SciFestival, Riga Latvia etc. She has more than 17 solo exhibitions and participated at new media festivals, and international exhibitions. The artist MOON Martina Zelenika is a member of the ADA-the Archive of Digital Art – database of virtual art, and SALOON – Network for Women of Berlin's art scene in 2020.