solo exhibition
Art and Science expressed in Lines: Extended realities 

in Vienna Austria at Mz* Baltazar's Laboratory
presenting a new project cycle Metaprogramming of The Human Algorithm, artwork La Petite Mort with Augmented Reality technology – mobile application MoTHA and a short video about RECEPTILIUM performance. 25th October – 1st November 2019
With this exhibition, and especially with La Petite Mort (Eng. small death), an artwork based on the technique of Augmented Reality and a smartphone App under the name of MoTHA, the artist MooN wants to give an example of the experience of how we can naturally re-program a human bio-computer for survival in our Natural Reality on Earth. The exhibition brings new and old media together. Quote from the artist: "Traditional and digital creative tools help me to visualise the process/result of inner alchemy (transcendental state) of the body and provide a digital interactive art experience for visitors with in addition to the classic viewing of handmade artwork. We as humans have an obligation to change our behavior, belief system and priorities in the material world for the purpose of developing a sustainable modern society and coexistence with other species on Earth that we depend on."
The day before the exhibition opens, on October 24, the artist MooN Martina Zelenika is invited to give her lecture titled "Augmented Reality-Contemporary (Dys)Utopia" to the students of Digital Arts department at the University of Applied Arts Vienna.
The curator of the exhibition is Dr. Phil. Penesta Dika, a free-lance curator in Vienna and lectures at the University of Art in Linz (Austria) and at the University for Business and Technology in Prishtina (Kosovo).
The exhibition is financially supported by the Croatian Ministry of Culture, The City of Zagreb and NAGON – interdisciplinary laboratory of arts, an arts organization from Zagreb.
Partners:  Mz* Balthazar's Laboratory, NAGON- interdisciplinary laboratory of arts  www.nagon.org

Opening: 25th October 18 – 21 h
Closing: 1st November 13 – 20 h

Mz* Baltazar's Laboratory, Wallensteinstraße 38-40/8, 1200 Vienna Austria
 http://www.mzbaltazarslaboratory.org
Opening times, every day:
Saturday  26.10., 12 – 18 h  Guided exhibition by the artist 
Sunday  27.10., 11 – 14 h   Guided exhibition by the artist 
Monday 28.10., 11 – 18 h   Guided exhibition by the artist
Tuesday  29.10., 11 – 18 h   Guided exhibition by the artist  
Wednesday  30.10., 11 – 18 h  Guided exhibition by the artist  
Thursday 31.10., 11 – 18 h  Guided exhibition by the artist  
Friday closing  01.11., 13 – 20 h  Guided exhibition by the artist
 #augmentedreality  #martinazelenika_moon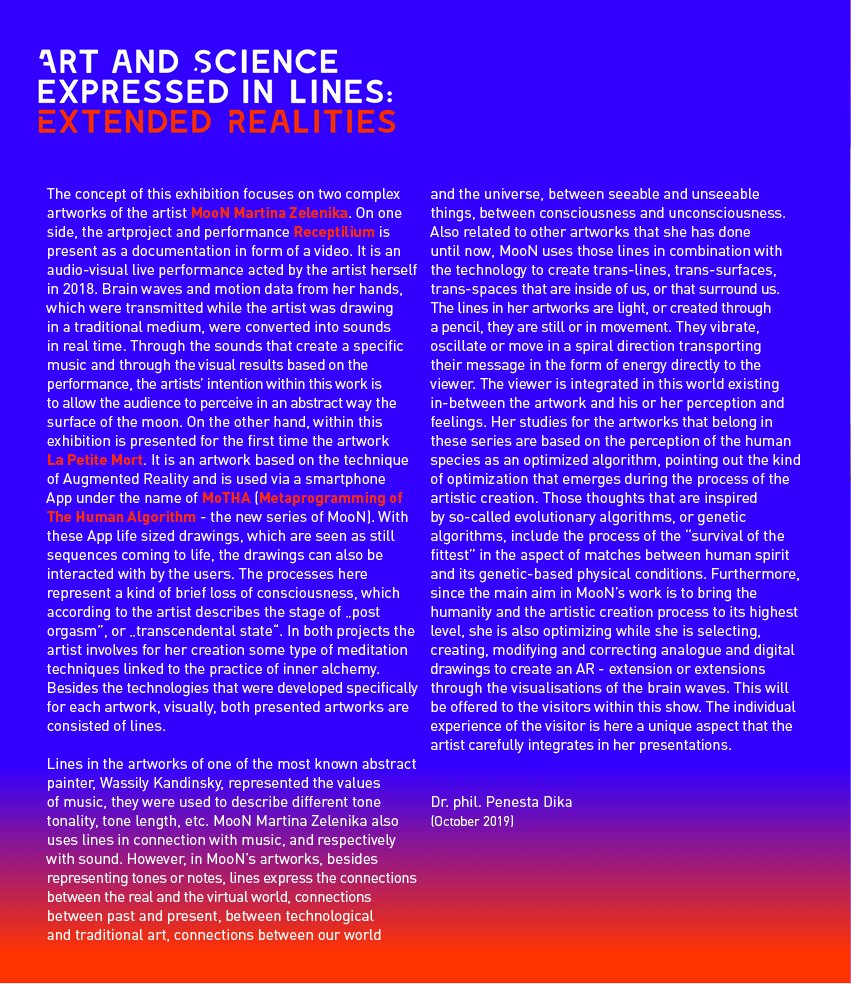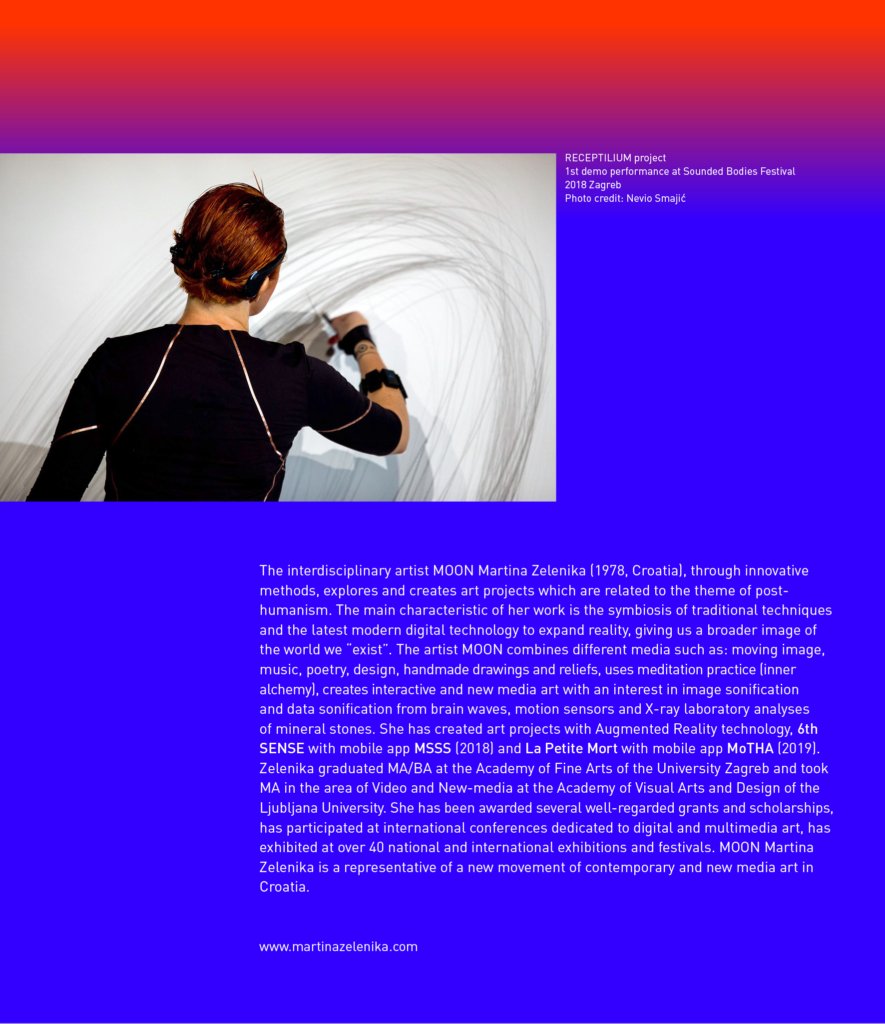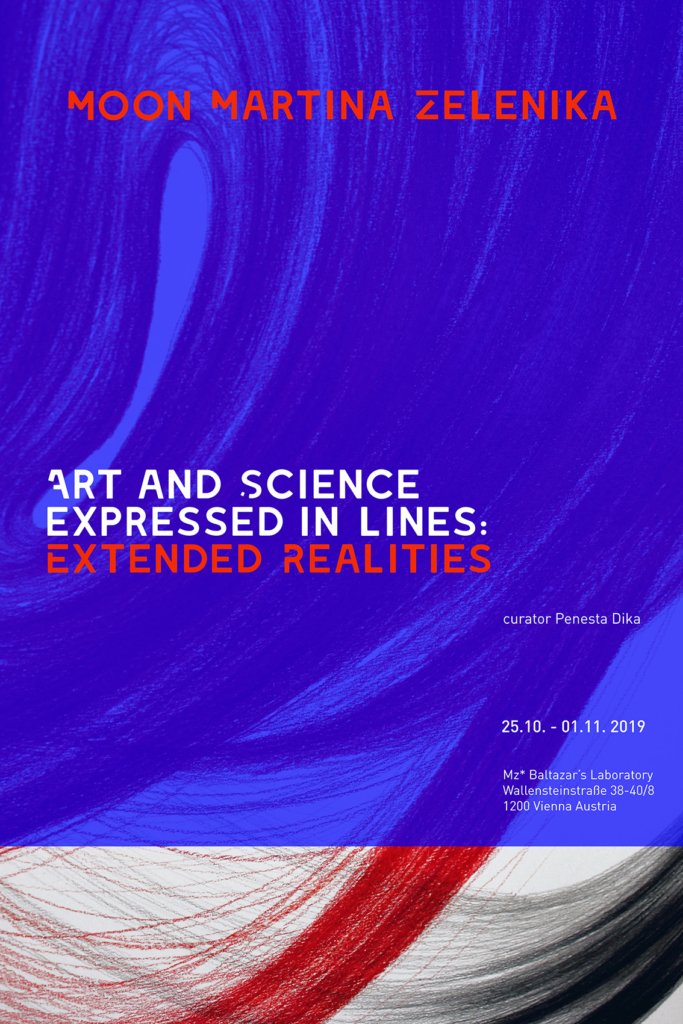 Design by MOON 2019